Planning a new construction home gives you a bonus benefit: You can build in eco-friendly features to use now or in the future.
No matter your level of sustainable home knowledge (or lack thereof), with the right resources, anyone can work toward building an eco-friendly home.
Seattle-based Dwell Development is known for its high-performance, sustainable homes. According to Dwell founder Anthony Maschmedt, what once may have been simply viewed as green-living trends are actually sustainable practices here to stay — whether you're ready or not.
Here are some factors you may want to consider as you start thinking about building an environmentally friendly, energy-efficient home.
Plan ahead
"Every one of our homes is net-zero ready," Maschmedt says of Dwell Development's homes. A net-zero ready home means you're setting your home up to be capable of producing as much energy as it consumes. Even if you're not yet able to commit to a net-zero home, you can plan for it when you're ready to later.
Whether you intend to install solar panels while building your home or add them in the future, you can set up your home now to "go solar" when you're ready.
In order to capture the sun throughout the year, Maschmedt advises people at the start of their home design phase to orient their home to the south.
Plan ahead and get a solar conduit and meter on your house, and you can add solar panels anytime. "It's going to become the new normal," Maschmedt says.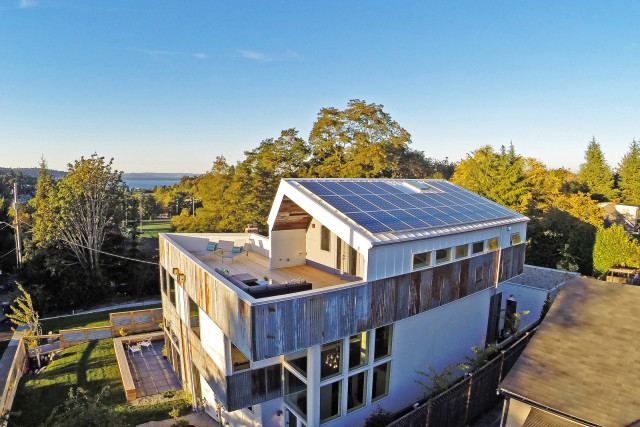 Martin Holladay, senior editor of Green Building Advisor, also recommends hiring an energy consultant or certified home energy rater to help develop your plans and specifications.
Maschmedt also recommends that your building plan include installing a car charger in the garage for electric cars. It will cost only about $250, and you'll avoid the hassle of installation post-build.
"Setting yourself up to be net-zero ready is crucial if you don't want to take all of the steps now," the Dwell Development founder adds.
Seal your home
"Builders are increasingly focusing on envelope air-tightness," Holladay notes.
On home exteriors, the Dwell team uses Enviro-Dri, manufactured by Tremco. Instead of using a house wrap and putting siding over it (as is traditional practice), Maschmedt recommends this particular spray-on applied fluid membrane.
"You roll it on, and it looks like black rubber paint that becomes part of the house," he explains. "It seals every nook and cranny from the outside, making the house basically airtight."
This weather-resistant barrier system is permeable, so moisture can go in and out of it—but since it's breathable, it doesn't let any moisture in. This allows the home to be both airtight and comfortable.
Another perk for this eco-friendly home-building practice? It goes on in just one day, and then your home is completely waterproof.
Use locally sourced materials
Another practice becoming more common in eco-friendly homes is building with locally sourced materials.
Try to gather as many materials as you can sourced near where you live. From steel to wood to rock, look in your surrounding cities and home state for materials.
In addition to supporting your local community, using locally sourced materials avoids adding unnecessary pollutants to the air by eliminating excess transporting of materials.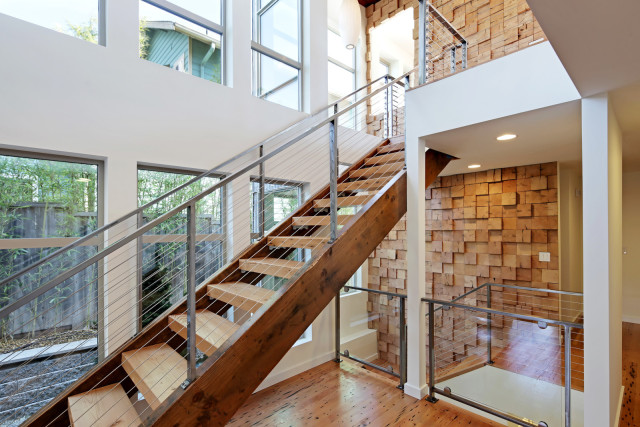 Consider it farm-to-table construction. Maschmedt offers one tip: Inquire about old trees needing removal. You could score some great raw materials at little or no cost.
Finding available resources around you often just takes a few emails or calls. And if you're still uncertain about how to acquire enough local materials, your home builder should be able to assist you in both locating and selecting the locally sourced materials for your home.
Choose eco-friendly paint
Use a high-quality, environmentally friendly paint for both the exterior and interior of your home.
Look for paint with low or zero levels of volatile organic compounds (VOCs). When these chemicals evaporate during drying, they can actually contribute to air pollution, producing smog as they react to sunlight.
And when you breath in these hazardous carbon-based substances, they can also be harmful to your health. So keep low- or no-VOC paint on your home-building materials shopping list.
Incorporate technology
What's next for sustainable home building? Within the sustainable home market, Maschmedt says technology that can help people manage their homes will soon take off more than it already has.
While home automation can help make homes "smarter," it seems it can also help maximize your sustainable home efforts.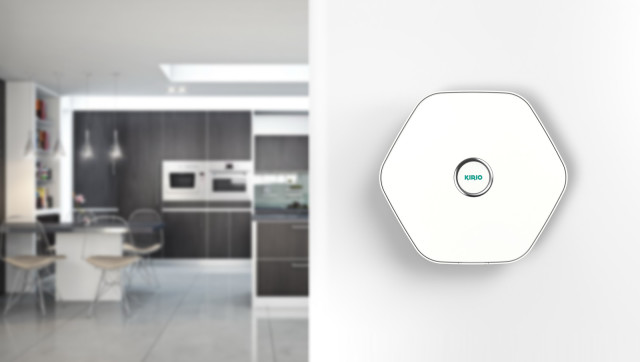 Maschmedt especially appreciates Kirio technology, which helps control the sustainable home system, ensuring that not only is it working properly at all times, but that it also runs as efficiently as possible.
Incorporating Kirio into your sustainable home plan will allow your home to be 20 to 30 percent more efficient. It allows the ventilation, heating, and cooling systems to communicate with each other, learn from your behavior, and adjust to the space's needs, Maschmedt explains.
Get into action
If you're ready to get started, but venturing into sustainable home building still feels overwhelming, consider your rationale behind "going green."
Holladay notes that there tend to be two types of homeowners who are interested in green construction: "Those concerned with global climate change, and those who believe that green construction methods will improve their family's health." Whatever your reasons, start there — and start small.
Maschmedt offers this advice to beginners: "It's all about how tight you build a home. You don't want air leaking in and out. Build a shell, add high-performance triple-pane windows with thick walls of pack cellulose insulation, and then add a heat recovery ventilator (HRV), which constantly brings in cold, fresh air and gets rid of stale, warm air.
"It's the system we're building right now that we hope will translate to all builders out there," he says.
Design your home with green benefits in mind, and get ready to reap the rewards.
BY SARAH PIKE at Zillow.com